Are you faced with the same challenge of getting tired with your workout routine? Do you lack the motivation to go to the gym every day? With the growing popularity of workout applications, staying in shape and bringing consistency to your workout routine has become easier. A wide array of workout apps offer different features and benefits for athletes and ordinary individuals equally. These apps help you achieve your fitness goals and actualize your full potential to keep your body in perfect shape. So, what are you waiting for? Scroll down to learn more about the top workout apps available for Android and iOS.
These applications are downloadable on both Android and iOS. These apps have not come out of anywhere. Rather, they are specially developed with the mutual collaboration of fitness experts and professional developers to provide a tailored solution to the needs of every person. Most people do not use these apps because of the misconception that they are perhaps made for athletes and bodybuilders. However, this is a wrong perception of workout apps. These apps are equally beneficial for everyone. Even if you are a beginner, you can benefit from these apps just like a professional trainer. Also, read Best Apple Watch Apps.
What Are Workout Apps?
As defined above, workout apps are specialized mobile applications to help users achieve their fitness goals. These apps come with several tools and features that makes it possible for users to remain consistent in their workout schedule. By keeping a record of a person's exercise routine and nutritional values, workout apps provide a tailored workout solution to every user. Mostly, workout apps are free, while some require premium subscriptions to unlock additional features.
Every workout app has its own features and benefits. Some apps allow users to get personalized diet and fitness plans for achieving their workout goals. While other apps use GPS and other sensors of gadgets to track the workout performance of users. For example, Google Health records different workout activities like walking, running, cycling, et cetera. After recording the data, a workout app processes it to provide detailed feedback about your workout performance.
Best Workout Apps
After carefully considering many technical and fitness-related factors, we have included the following apps in our list of recommendations. You can download these apps because they meet the requirements of every individual. Most of these apps can be used without any subscription.
If you want to know which apps suits you the most, we will attempt to inform you about the plus and minuses of every app alongside telling you about its compatibility. We will try to add some details about the peculiar features of these apps:
1: Nike Training Club
Nike Training Club is a premier application designed by Nike to keep users on their fitness track to achieve their goals. The app has a comprehensive package of workout trackers, fitness lessons, tips and tricks, and a community forum for fitness freaks. Many people think they need Nike merchandise to use this app. However, this is absolutely a misconception. Anyone can download this app and use it for indoor and outdoor workouts, alongside getting personalized suggestions for your diet and workout routine. So, please hurry up and download it now! Also, read Best Budget Apps.
2: Apple Fitness Plus
Apple Fitness Plus is a one-of-a-kind fitness tracking app developed exclusively by Apple Inc. Whether you are a beginner or a fitness expert, this app is equally beneficial for both. This app is super-amazing for tracking your fitness and getting personalized calculated exercise feedback. However, the only shortcoming of this app is its limited compatibility – being only downloadable on iOS gadgets. So, you won't be able to use it on Android and non-Apple devices. You can also connect this app to your Apple Watch to get your stats displayed on it.
3: Peloton
Peloton is a specialized fitness app for home workouts, biking, and treadmilling. Unlike other apps that just offer trackers to record your workout performance and show you feedback, Peloton comes with a wide array of motivational and instructional classes to help you determine your workout exercises, schedule, and frequency. It also allows you to schedule your workout routine to acquire incredible consistency to achieve your goals faster. You can also join Peloton's classes with your friends alongside connecting to a large community of fitness-conscious individuals.
4: Sweat
On Android and iOS, Sweat is a brilliantly designed app with a colorful interface and easy-to-use options to meet your fitness-related requirements. This app is, however, not free. You need to subscribe to its premium plan for as low as $19.99 monthly and $119.94 yearly. Having said this, we assure you that if you are really interested in learning proper workouts, this app is gold for you. If you spend your money buying its subscription, your money will translate into the value that it will add to your life by putting you on the right workout track.
5: EvolveYou
EvolveYou is the perfect app that meets the needs of individuals who want to shuffle their workouts from one exercise to another. Suppose you are a person who prefers changing your location from living room to gym and your workout from cardio to HIIT. In that case, EvolveYou helps you devise the ideal plan, keeping in view your physical and health-related data. Many women also complain that most of these apps do not provide tailored plans for women. So, the problem is gone! EvolveYou is designed by a female trainer Krissy Cela, with specialized plans for women.
6: MyFitnessPal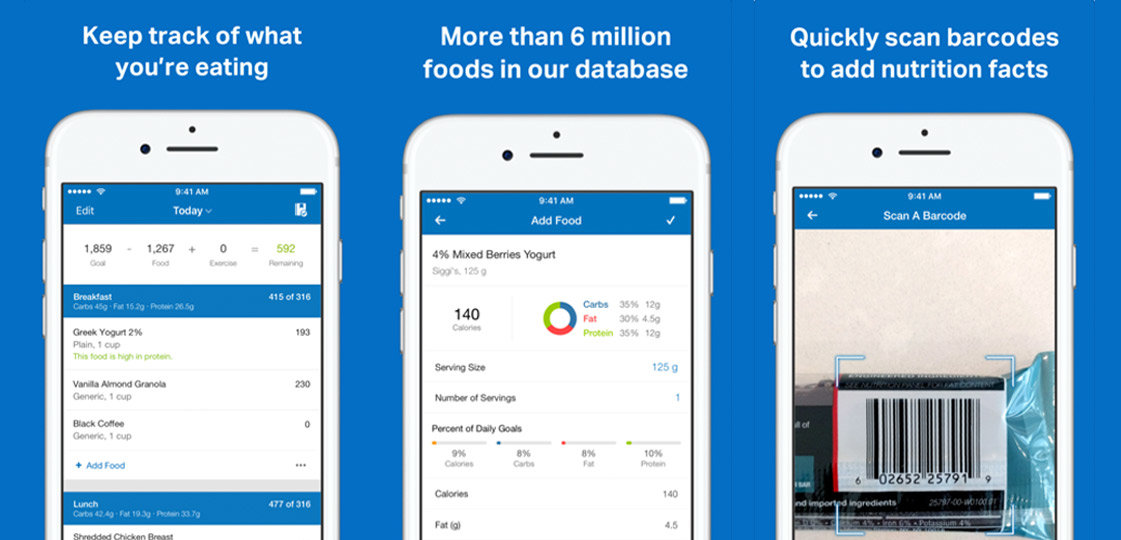 MyFitnessPal is a top-notch, user-friendly fitness app that is downloadable on Android and iOS. As the name denotes, this app is really your companion in achieving your fitness goals. Whether you want to gain weight, reshape your muscles, or lose weight, MyFitnessPal opens several ways that you can adopt to actualize your fitness dream. It has a large community of members, and the company claims to have helped more than 1 million people. So, would you like to be the next one to be helped? Since its release in 2005, the service has been one of a kind! Also, read Best Weather Apps.
7: HWPO Training
HWPO Training is a 4+ stars rated app that is available for just $40 monthly. If you are a CrossFit doer, this app is ideal because it gives you tips for working out alone. It is highly suitable for beginners as well as experts. The tips are easy-to-follow and can bring the promised changes in your body if you follow them. We acknowledge the expense of this app. However, if you are earning a large sum of money or have a running business, this is the perfect place to get yourself trained by the most expert trainers in the world.
8: Strava
If you like running for miles to achieve powerful stamina and keep yourself fit, Strava is the most suitable app for runners. It has both free and premium versions that allow you to choose what suits you the most. This is, so far, the premier app for keeping track of your running, cycling, swimming, and skiing performance. Not only run, but you can also track more than thirty sports. Strava gives you the feeling of being connected to other runners in the area and puts challenges among runners to achieve and feel more motivated.
9: Jefit
Jefit is the perfect gym and home workout app with many workout plans. Available on both Android and iOS, the specialty of this app is that it collects data from your phone's sensors and GPS. Once the data is collected, it processes it in light of your provided physical stats. Eventually, it uses infographics to show your performance and present a graph-like view of your activities. This helps you to stay motivated and aware of your workout routine. So, get the latest version of Jefit to enjoy these features.
FAQs
Which is the Best Workout App?
It is hard to name one app as the best workout app because each has different features and benefits. However, the apps mentioned above are the best workout apps in 2023. You can
What is the Best Workout App for Free?
The above apps are included in the list of the best workout apps UK and the best for men. Most of them are free and only require a subscription for additional features.
Is There a 100% Free Workout App?
Yes, nearly all of the above-mentioned best workout apps are free and do not require additional charges unless you demand more features. These apps are free to use with standard features.
What is the Best App for Home Workouts?
Peloton, Sweat, and EvolveYou are our premier recommendations for the best workout apps for women since these apps are ranked top in the list of the best workout apps on Reddit.