Weather is not just a natural phenomenon in the present world. It is a major determining factor in human life and activities. Our decisions, plans and events are more or less based on weather conditions. For example, we plan outings as per the available weather reports to avoid any inconvenience at the spot. This is why weather forecasting is of high importance in our daily life. Alongside bringing other feasibilities in our lives, technology has made it incredibly easier to check weather forecasts. All this has been made possible through weather apps available for laptops and mobile phones.
What Are Weather Apps?
Weather apps are the built-in or manually installed applications that are designed to provide accurate and up-to-date weather forecast to users. These apps are connected with different servers around the world that gathers data from different stations to deliver reliable predictions about weather conditions. Nowadays, these apps are not merely limited to the weather forecasts. They also provide information about other environmental factors like air pressure, humidity, chances of rain, wind sleep, air quality, sunrise and sunset timings.
These weather apps not only provide weather forecast for a single day or hour. Rather, they provide a stretched weather report, spanning many upcoming days as well. The utility of these apps has grown with the continuous expansion in their functionality. They use your mobile phone's location services or GPS to determine your exact location on the map. Once your location is determined, they show you everything about weather within your area. Weather apps are readily available on both Android and iOS and can be downloaded from their respective app stores. Also, read Best Stream2watch Alternatives.
Best Weather Apps
Many top-notch apps are available without any subscription charges. You can use them to get accurate and reliable weather forecast for your area. These apps help you schedule your outdoor plans, and make any necessary arrangements. We are bringing a number of accurate and free apps that work on both iOS and Android to provide the latest weather updates.
1: AccuWeather
You must have heard the name of this weather forecast service before, but you may not know that AccuWeather has also launched a mobile app that uses its server to provide fast and accessible weather updates and reports. Available on both iOS and Android, the app's interface is really smooth and easy. At the main screen of the app, it will allow you to choose your city or area. Once it is selected, the weather information for your respective area will be loaded and shown.
2: CARROT Weather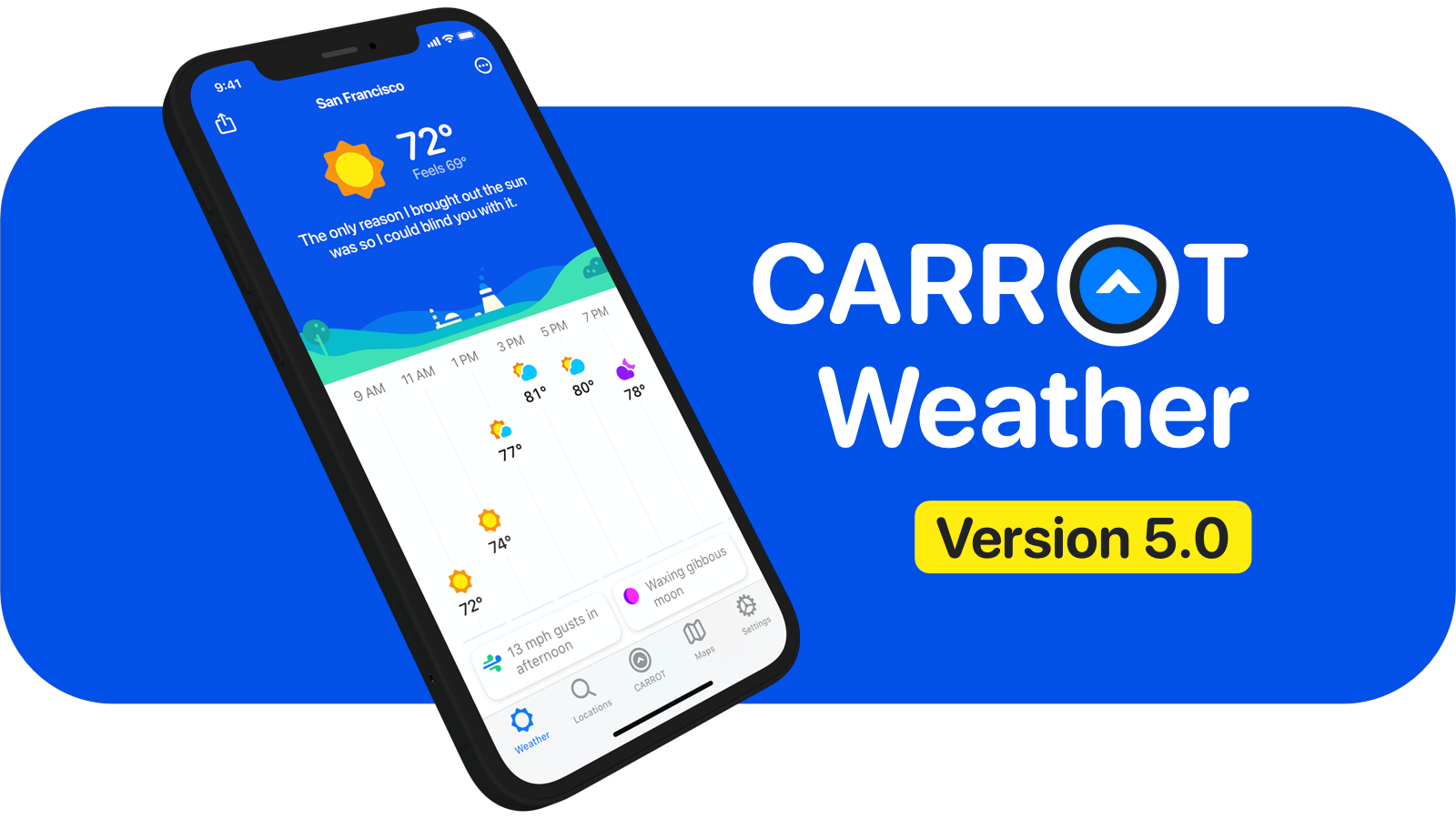 CARROT Weather is a trusted weather app that is credited with delivering reliable weather reports. It has recently rolled out the updated version of its weather app for both Apple and Android devices. CARROT claims that its weather reports are based on predictions conducted scientifically using all available resources with up to 99% accuracy. The app comes with customizable widgets to show weather updates on your home screen. It has the feature to show past weather up to 70 years. Also, read Best Allmovieshub Alternatives.
3: Weather Underground
Weather Underground is a brilliantly useful app with a live radar to show you weather updates. This is the most interesting thing about this app that its radar features make you feel that you are actually monitoring the weather through their installed equipment. The app also allows you to subscribe to its premium plan which offers more extensive features. Overall, users have given this app four to five stars of reviews on app stores. This is why it falls in the list of our recommendations.
4: Clime
Clime is a relatively more complex and developed weather app that uses radar to show weather conditions using different colors and symbols on the geographical map of the world. Some people may find it a bit hard-to-use but once you get familiar with it, it will give you highly insightful details about the weather in your area. The app also reports about hurricanes with its tracker. Its local fires and hotspot features give you a view of events that impact your weather.
5: The Weather Channel
The Weather Channel is well-reputed weather forecast source. A few people know about their Android and iOS app that displays its weather forecast right on your mobile phone. With a small-sized app of just 45 MB, The Weather Channel makes it super convenient for you to get regular and hourly updated weather forecasts for your set area. You can also set multiple areas to get their weather forecast reports. The interface of the app is incredibly user-friendly with a lot of catchy widgets. Also, read Best Youtube2mp3 Alternatives.
6: 1Weather
1Weather features a amazing app that provides a hyperlocal weather forecast with information about factors like precipitation, humidity, UV and visibility. It uses captivating and insightful infographics to display numeral values so that they are comprehensible for every user. So far, users have reported that its rain possibility predictions are highly accurate for almost every region of the world. The app is available for iOS and Android with no charges.
7: Yahoo Weather
Like its other services, Yahoo Weather is a premier weather reporting service by Yahoo. It has a specially designed app for Android and iOS users which they can use to get the latest and most reliable weather updates for their area or city. Yahoo Weather is easy-to-use and its app can be downloaded in a matter of seconds. Yahoo Weather also has some amazing widgets to make weather displayable on your phone's home-screen. So, know the hot and cold of your city!
8: Windy.com
Windy.com – Weather and Radar is a weather forecast app for Android and iOS users to update them with the latest weather predictions. The app is completely ad-free and sizes just 25 MB with many beautiful features including multi-model forecasting, weather radar, multi-mapping of weather, integration with NASA data, and tidal forecasts. You can easily rely on this app for experiencing the most advanced way of receiving weather forecasts. Also, read Best Hurawatch Alternatives.
FAQs
Which weather app is most accurate?
Nearly all of the above-listed weather apps are accurate as per available reviews and tech reports. You can confidently call every one of those apps the best weather app for Android.
What is the number 1 weather app?
There are a lot of weather apps available in the market. However, as per our suggestion, AccuWeather stands on top of the best weather app Reddit.
Which is the best free weather app?
All of the above-listed weather apps are free. Not only free, they are also ad-less which means lesser distractions and more information.
Is AccuWeather better than the Weather App?
Of course, it is the best weather app for iPhone and Android. AccuWeather is listed as the best weather app for free.  It is, so far, the most accurate weather app available.
Is AccuWeather the best app?
Yes, it is the best weather radar app that allows you to experience accurate and insightful weather forecasts in a matter of seconds.
What apps use Google Weather?
There are a lot of apps that use Google Weather server for displaying weather forecasts. However, the above-mentioned ones have their own servers.
Which weather app is used in Samsung?
Samsung may or may not use The Weather Channel's app in its phones so that users can stay updated with the latest updates.